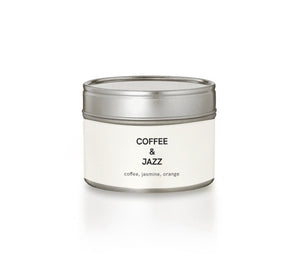 BOC'CARO LAB
COFFEE&JAZZ x 16i kava
Sale price Price €15,00 Regular price
Scented soy candle COFFEE&JAZZ | Collaboration with 16i kava
How do you take your coffee? Do you drink a quick shot of strong espresso and enjoy the boost of energy, like jazz energising you for the day? Or do you prefer to savour it slowly, like enjoying the spinning vinyl record?
In collaboration with 16i kava we created two candles for scents and experiences lovers. 
"Coffee & Jazz" is like a shot of strong espresso to energise and inspire You. In this candle coffee notes interlace with scents of fresh orange and evergreen jasmine creating an empowering, warm and spicy aroma. It's like walking through an exotic blossoming garden budding in the morning glory.
Notes and composition:
Notes: coffee, jasmine, orange.

Warm soy wax can be used to massage and nourish the skin.
......
100 g | Burn time at least 22 hours

Shiny metal can | Height: 45 mm | Diameter: 64 mm

For excellent burning experience, trim candle wick before lighting. 

......
Hand poured in Vilnius (2021)
Pure EcoSoya wax from the United Kingdom
Made with high quality fragrance oils.
......
Get your coffee and candles at @16ikava, Sevcenkos str. 16i, Vilnius.