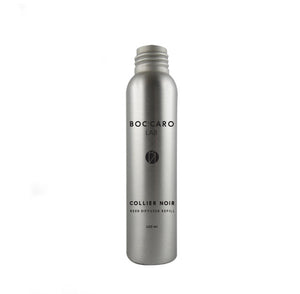 BOC'CARO LAB
COLLIER NOIR | Room diffuser refill
Sale price Price €25,00 Regular price
COLLIER NOIR | a collaboration with Kristina Kruopienytė

100 ml reed diffuser refill
Smell and memory are inseparable in this scent that evokes a girl's glimpse at her mother carefully assembling an evening look. Notes of dark wood, seductive cocoa and ambergris blended together with fragrant delicacy of jasmine create a feeling of sinking in time and remembering that spellbinding sheen of black pearls on her neck.
Scent leasts 3 months
Adding or removing the reeds allows you to control the intensity of the scent.
Notes and composition:
Top: Oud | Bergamot | Eucalyptus | Leather
Heart: Jasmin | Cedarwood | Vetiver
Base: Tonka bean | Cocoa | Ambergris | Oakmoss
/ Manually blended in Vilnius (2020)
/ Diffuser base oil made from a renewable source
/ Heavy glass diffuser with ten rattan reeds