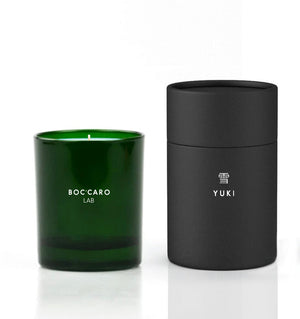 BOC'CARO LAB
Scented soy candle | 雪 YUKI
Sale price Price €47,00 Regular price
雪 YUKI | Scented soy candle

New bigger size!
The scent YUKI - inspired by the first snowfall in Japan.

YUKI in Japanese 幸 means "happiness" or 雪 "snow". YUKI portrays a feeling, an emotion and a sense of ephemeral beauty watching the first snowfall in Japanese gardens. Snow, as a symbol of purity, is plays a special role in a subtle Japanese culture. In the art of prints and paintings, snow is considered to be a symbol of both naive innocence and heroic commitments.
The smell of YUKI is as unpredictable as snow - sometimes chaotic, sometimes light and fading. The scent is also incredibly mysterious – you can suddenly mind-travel to the snowy Japanese gardens and pine islands. Special attention is paid to the Japanese cedar of the Forest of Hida. The scent is deep and nourishing, it also gives a sense of calmness and light nostalgia. The Forest of Hida is an interesting placesurrounded by mountains on the East and West, and rivers and canyons on the North and South. Hida Province is famous not only for the abundance of forests but also for extremely cold winters, which is why the essential oil of cedar grown in the Forest of Hida accumulates a great deal of vital energy.
.................
Top: Hida Sugi (Japanese cedar), bergamot
Heart: saffron, cashmere woods, tonka beans
Base: tolu balsam, oakmoss, fire needles
A fragile and cold footprint that evokes curiosity to follow, explore and enjoy.
.........
/ Pure EcoSoya wax from the United Kingdom
/ Parfume oil from United Kingdom
/ Hand-poured in Vilnius (2022)
220 g | Burn time at least 50 hours
For an excellent burning experience, trim candle wicks before lighting.