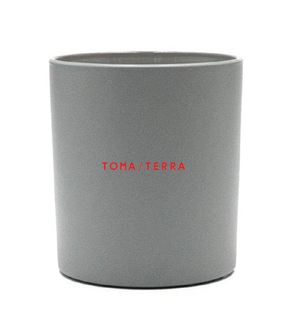 BOC'CARO LAB
Scented soy candle TOMA/TERRA
Sale price Price €47,00 Regular price
TOMA/TERRA | NEW EDITION
An ode to summertime. A soft scent of freshly and lovingly rubbed tomato leaves evokes memories of wandering barefoot in grandmother's or mum's greenhouse, feeling soil underneath the feet. Transporting you to a tranquil early summer day the scent incorporates notes of familiar, homegrown summer aromas. In Toma/Terra soft fragrance of tomato leaves marries with mint family herbs - sweet basil, sharp thyme and earthy oregano to create a light yet powerful summer scent. 
Brings the summer into your home. Transports you to a nostalgic summer day.
This candle is inspired by nature and its beauty. We suggest to up-cycle and repurpose the glass container after enjoying your candle. Maybe you can start growing your own herbs or little tomatoes there?
We believe in celebrating little things therefore all candles come packed like a small gift in paper bags with ribbon handles. All paper packaging is made from recycled paper.
Every candle comes with Tomato (Solanum lycopersicum) postcard from Silver Herbarium series, made by Emilija Petrauskienė. The negative for postcard is made by wet plate collodion technique and printed digitaly on recycled paper.
For the original print and other prints, please contact Silver Herbarium www.epetrauskiene.lt
Notes and composition:

Freshly rubbed tomato leaves, basil, oregano, thyme.
220 g | Burn time at least 50 hours
......
/ Hand poured in Vilnius (2022)
/ Vegan EcoSoya wax from the United Kingdom
/ High quality fragrance oils
/ Candle glass with grey matt finish and red print | Height: 93 mm | Diameter: 78 mm
For an excellent burning experience, trim candle wick before lighting.